Singh awarded a Multiple PI NIH R21 with Ahmet Coskun to define specific immune cell processes to understand why obstructive sleep apnea patients are prone to infections!
Singh awarded a Multiple PI NIH NCI U01 with Cheng Zhu on decoding "dysregulated mechanoimmunology of epigenetics-driven lymphomas"!
Team Singh presents work at the Wellcome Leap HOPE PI meeting in Vancouver! Next stop Germany!
Professor Singh gave an invited talk at the Health Disparities conference in New York City and PhD students Lucy Britto and Deepali Balasubramani received a travel award to present research!
Singh Lab starts a new sponsored research endeavor with the biotech leader, Genentech to develop innovative solutions!
We are very excited to welcome our newest Ph.D. student, Shaylyn Grier, to Singh Lab! Shaylyn is an NSF GRFP Fellow and passionate about engineering T cells! WELCOME!!
Congrats Ph.D. student Hyeon Ju Song on receiving a Cell & Tissue Engineering CTEng NIH T32 training fellowship!
Singh Lab celebrates Aolani Colon and Kathryn Castro's successful completion of their Georgia Tech BME MS thesis! Aolani will join Regeneron as a Gene Editing Scientist and Kathryn to pursue medical school! Congrats!!
Congrats Eric Dai for passing his BME/BioE Ph.D. Qualifying Exam!!
Nobel Laureate Dr. Carolyn Bertozzi tweets about our research!
Testing vaccine candidates quickly with lab-grown mini-organs – Emily Schneider (Science Writer)
Shiv Shah's new work on B Cell Responses to Conjugate Vaccines Using Synthetic Immune Organoids was published in ACS Central Science! Congrats on 2nd first-author paper in a month!!
Groundbreaking Lymphoma Tumor Model Paves Way for New Therapies 
Singh Promoted to Full Professor!
Nature Materials also publishes "News & Views" on our recent research work published in Nature Materials – Check it out!
New Paper Published in Nature Materials! Congrats to Shiv Shah and the whole team!
New patent application filed: Efficiently Generating Complex Hydrogel Structures for Tissue/Organ-on-a-Chip Models
Wonderful visiting the International Centre for Genetic Engineering and Biotechnology in New Delhi for a talk & expanding collaborations in infectious disease!
Dr. Singh and his HOPE team present research at MIT at the Wellcome Leap  PI meeting!
Congrats recent PhD graduate Dr. Tibra Wheeler on starting her new position as a Senior Engineer at Becton, Dickinson and Co. in the Technology Leadership Development Program (TLDP)! Wish you a great career ahead Tibra! 
Prof. Singh visits University of Toronto BME and Craft Microfluidics for an invited seminar to share our lab's research!
Welcome new postdoc Ameya A. Dravid! Ameya joins SinghLab as a joint postdoc with GarciaLab to work on cell therapy!
Congrats
Valeria Juarez  on becoming '22 GeorgiaTech UCEM PhD Scholar!
Congrats Sungwoong Kim on his new job, Alyssa Montalbine on passing her BME PHD qualifying exam today, & a special welcome to our 5 new PhD students! 
Congrats to Dr. Sungwoong Kim on his new position as Scientist II at Sorrento Therapeutics. Sungwoong will join the lymphatics delivery team.
Excited to welcome 5 new Ph.D. students to Singh Lab!! We continue strengthening lab's science, scientific background, & gender/ethnic/geodiversity. Welcome Lucy Britto, Zhuoqi Tong, Deepali Balasubramani, Hyeon Ju Song, & Eric Dai!
Congrats 
 PhD student & NIH T32 trainee, Valeria Juarez, on her selection to participate in "NextProf Pathfinder 2022 Workshop", held at University of California, San Diego
PhD student Liana Kramer presented research at the inaugural ImmunoEngineering Gordon Research Conference
Singh invited to give a talk at the University of Oxford, Oxfordshire, UK!
Valeria Juarez and Alyssa Montalbine team up to publish joint first-author work on "Microbiome as an immune regulator in health, disease, and therapeutics" in Advanced Drug Delivery Reviews! Congrats!
Liana Kramer, Ph.D. student, published her research work "Lipid Membrane-Based Antigen Presentation to B Cells". Congrats to her!
Valeria receives NSF GRFP! Congrats to her!
Singh granted a new US Patent on Bioadhesive Gels and Methods of Use
PhD Student Valeria Juarez and Manuel Quinones Perez receive R31 funding support to present research at 2022 Bioinspired Materials GRC in Les Diablerets, Switzerland
PhD Student Liana Kramer, Monica Zhong, and Chris Carlson give podium talks at 2022 Society for Biomaterials Annual Meeting
Singh Awarded 2022 Society For Biomaterials Mid Career Award
Dr. Singh elected Fellow of the American Institute for Medical and Biological Engineering (AIMBE)
Jan 27, 2022 Collaborative work published in Nature Immunology! Congrats to whole team and recent PhD Dr. Kristine Lai!
Twitter Feed: https://twitter.com/Dr_ASingh/status/1486739287836172292
Jan 20, 2022 Congrats PhD student Manuel @MJQuinonesPerez  on receiving Retaining Inspirational Students in Tech. & Engineering (RISE) scholarship from @GeorgiaTech  Center for Engineering Edu & Diversity @CEED_gatech . RISE scholars display persistence in engineering, leadership, & service!
Jan 13, 2022 Matt Mosquera's PhD work on Prostate Cancer organoids featured on the "Advanced Materials" Frontispiece Cover !!!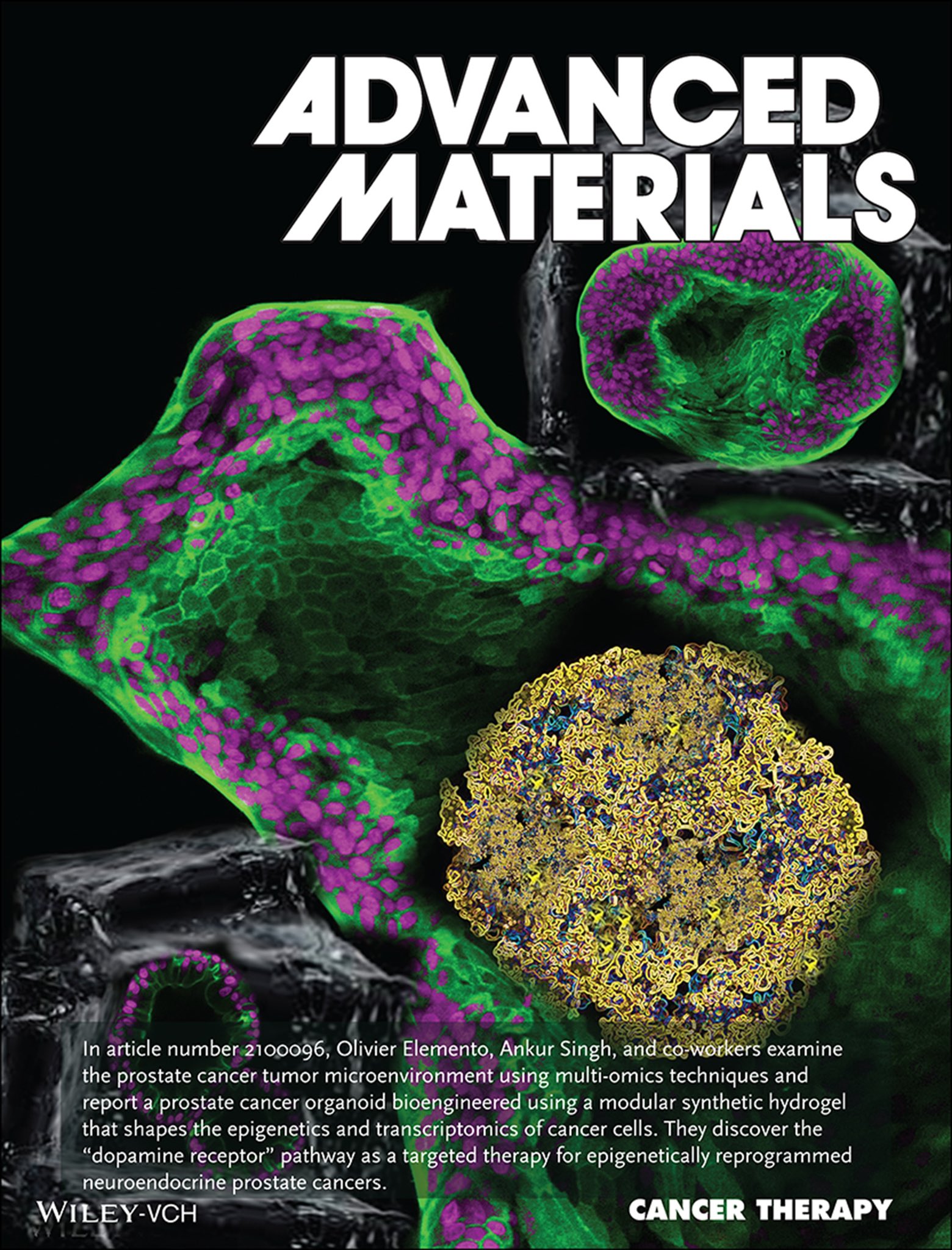 Dec 15, 2021 Prof. Singh was selected to receive the 2022 Mid Career Award from the Society for Biomaterials!
Twitter feed: https://twitter.com/Dr_ASingh/status/1473001726194028546
Dec 15, 2021 Happy Holidays and Merry Christmas from @SinghLabGT! Wonderful holiday party in Atlanta, GA!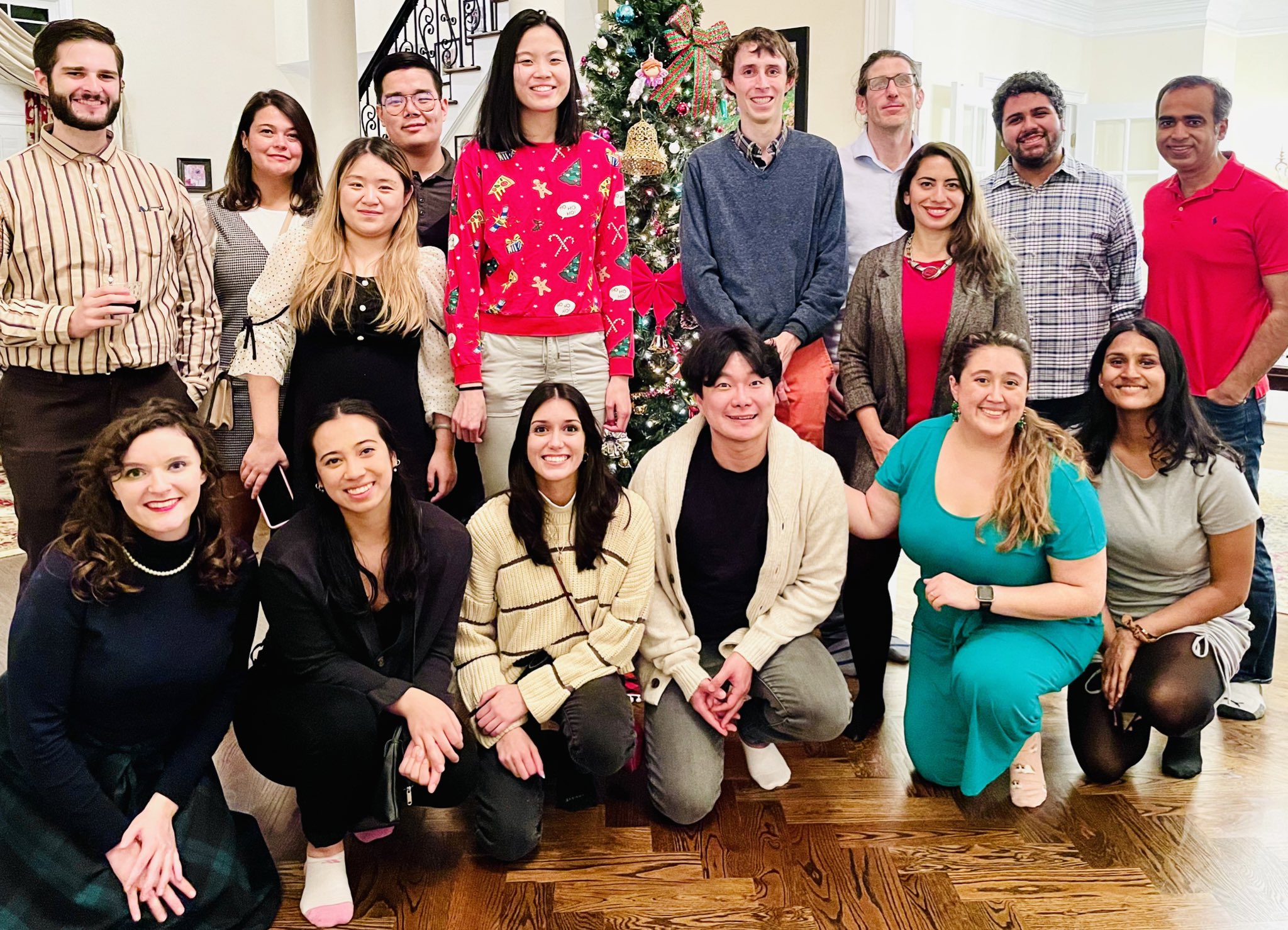 Dec 9, 2021 Prof. Singh speaks at the 3rd annual Immune Modulation and Engineering Symposium at Drexel University!
Dec 1, 2021 Congrats to Tibra Wheeler on successfully defending her Ph.D. dissertation today! Dr. Tibra Wheeler @tibwheeler is the 8th PhD to graduate from Singh Lab!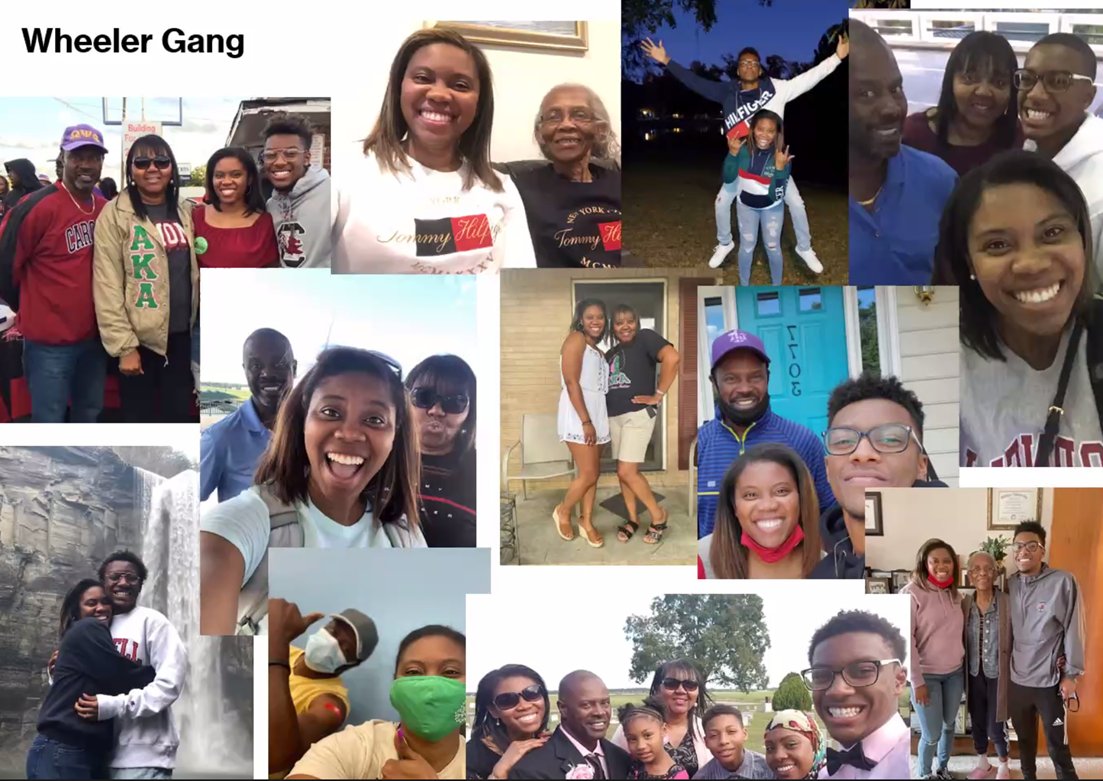 Nov 29, 2021 Congrats to Kristine Lai on successfully defending her PhD dissertation today! Dr. @KristineLai7 is the 7th PhD to graduate from Singh Lab!
Nov 15, 2021 Congrats to recent Ph.D. Dr. Matt Mosquera on his latest work on #Prostate #Cancer Organoids published in Advanced Materials!!  We discovered that the extracellular matrix in the tumor microenvironment regulates epigenetics & gene mobilization in mostly untreatable neuroendocrine prostate cancers. See Twitter feed here: https://twitter.com/Dr_ASingh/status/1460285646707245057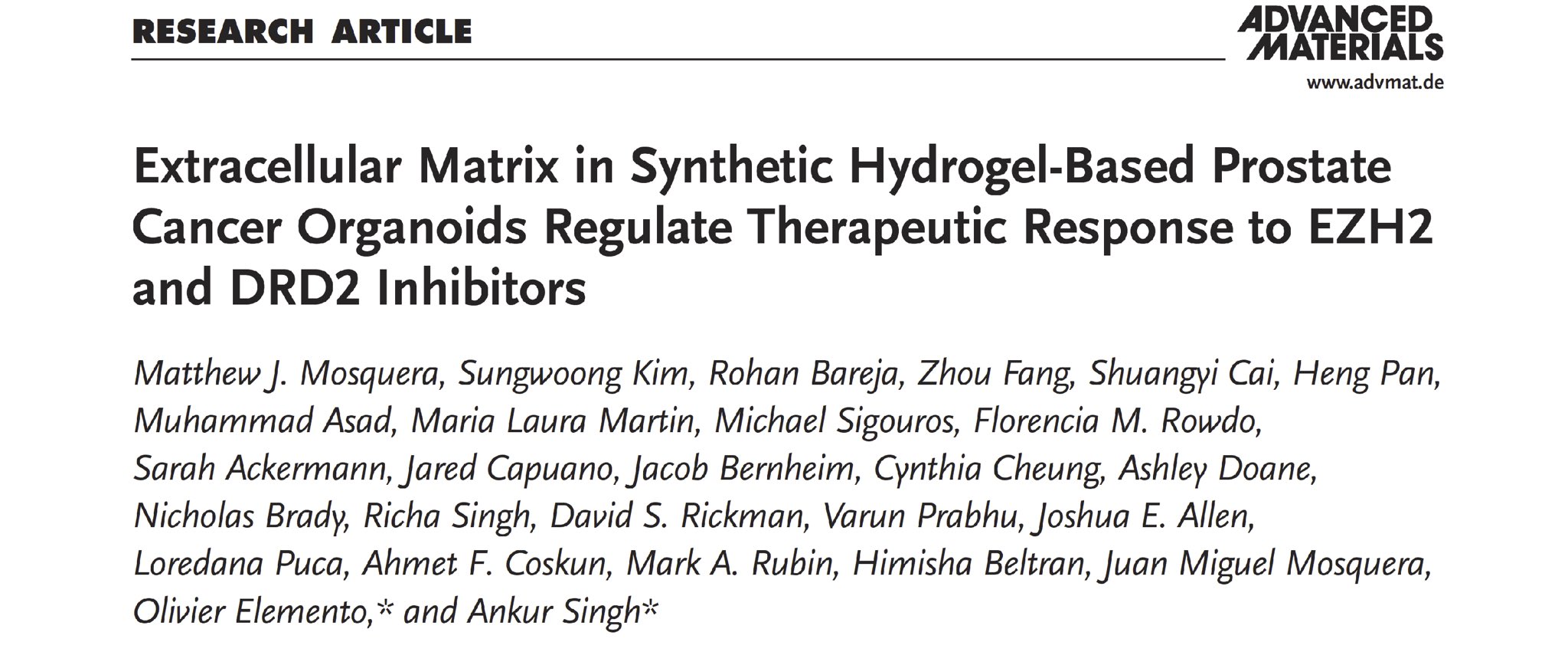 Sep 2, 2021 Dr. Singh was appointed as an Associate Editor of Biomaterials.
July 1, 2021  Congrats to my PhD students Valeria Juarez and Manuel Quiñones Pérez on receiving @NIH @NIGMS  T32 Cell and Tissue Engineering fellowships. @juarez_valeriam  is building biomaterials for lymphoid tissue engineering. @MJQuinonesPerez  is studying immune cell migration in tissues.
May 19, 2021 Congrats to PhD student Tibra Wheeler @tibwheeler  on receiving her Excellence in Leadership award at Cornell! 
Apr 5, 2021 Wellcome Leap Grant Funds Work to Create Human Immune Responses
Feb 12, 2021 Congrats Tibra Wheeler on getting selected as a Bouchet Graduate Honor Society scholar!!
Feb 11, 2021 New collaborative paper published in Blood!
Jan 1, 2021 Singh named Woodruff Faculty Fellow
Jan 1, 2021 Singh published a Review in Nature Nanotechnology on eliciting B cell immunity against infectious diseases using nanovaccines
Oct 26, 2020 New collaborative paper published in Blood Advances! Congrats to former lab members: Regan and Shiv!
Aug 1, 2020 Congrats to recent PhD, Dr. Shivem Shah, on starting his MD at Columbia University School of Medicine in NYC!!
July 20, 2020 Congrats to former lab undergrad, Dr. Sonja Eagle, on joining Stanford Emergency Medicine @StanfordMed as a Resident Doctor. She finished her MD @DrexelMedicine this year. 
July 1, 2020 Congrats to recent PhD, Dr. Matthew Mosquera, on starting his new position as a Process Development Scientist at Teva Pharmaceuticals in Philadelphia, PA!!
June 30, 2020 Congrats to PhD student Sungwoong Kim on winning the Controlled Release Society Video Competition Award from the Immuno Delivery Focus Group!
June 29, 2020 Congrats to PhD student Kristine Lai on winning the Controlled Release Society Trainee Award!!!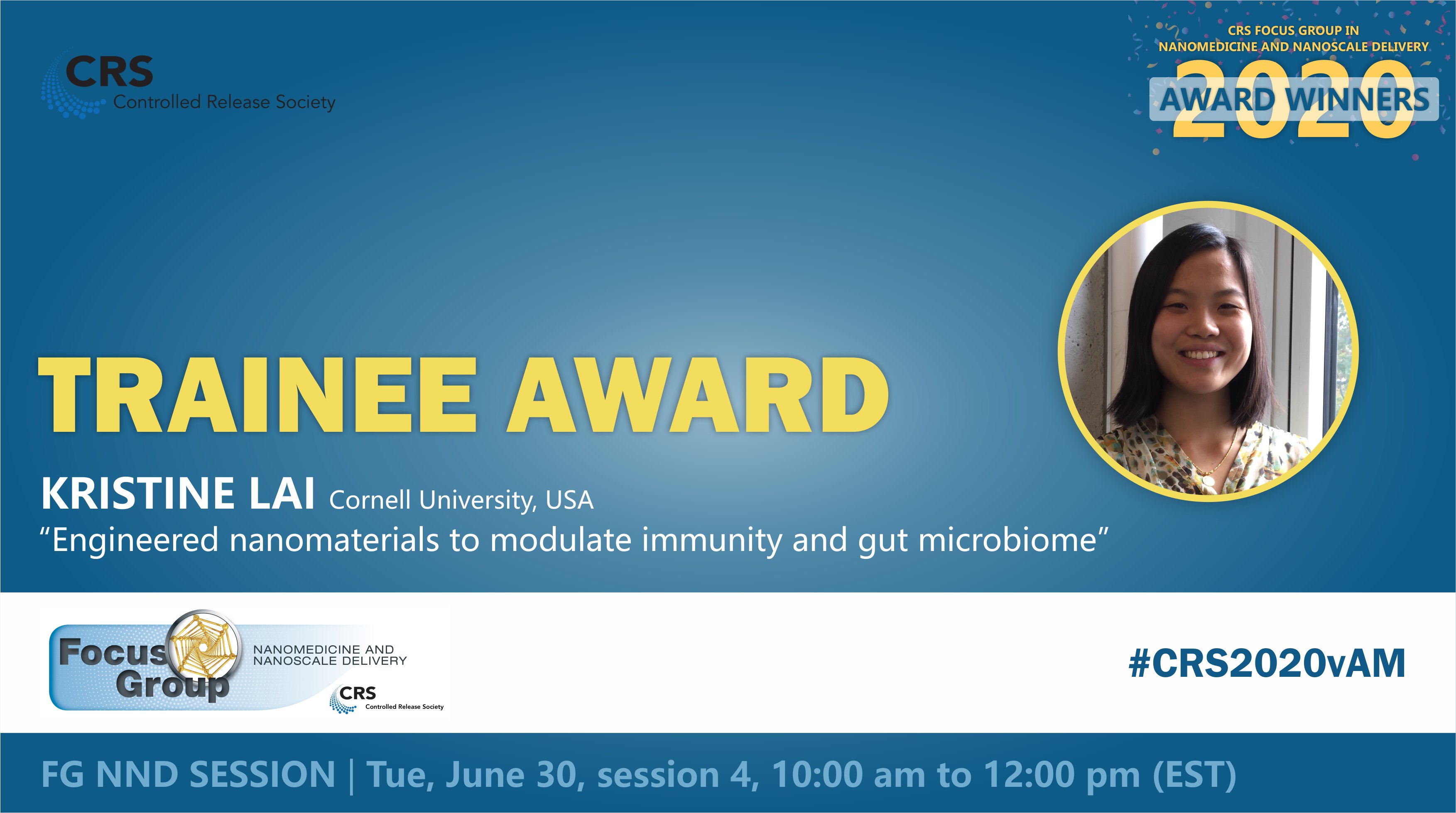 May 1, 2020 Lab toasted virtually on Zoom to celebrate PhD student Shiv Shah's decision to accept Columbia Medical School's offer. He is on his path to be a Physician-Scientist. Proud of you shivemshah!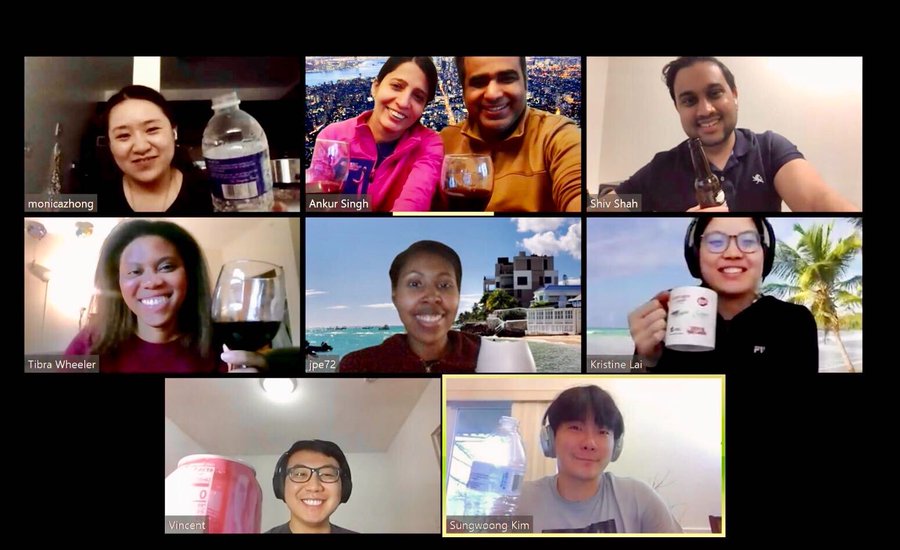 May 1, 2020 Thank you National Science Foundation NSF and NSF_ENG for funding our collaborative research on #vaccine #biomanufacturing using cell-free glycoproteins & immune organoids. Lab will continue collaboration with Professor Matthew DeLisa at Cornell University.
April 16, 2020 Prof Singh served on a webinar panel on "Can Materials Science Counter the #COVID19 #Pandemic?" w/ academic & usarmyccdc experts in infectious diseases & materials. Presented by Materials_MRS and SFBiomaterials.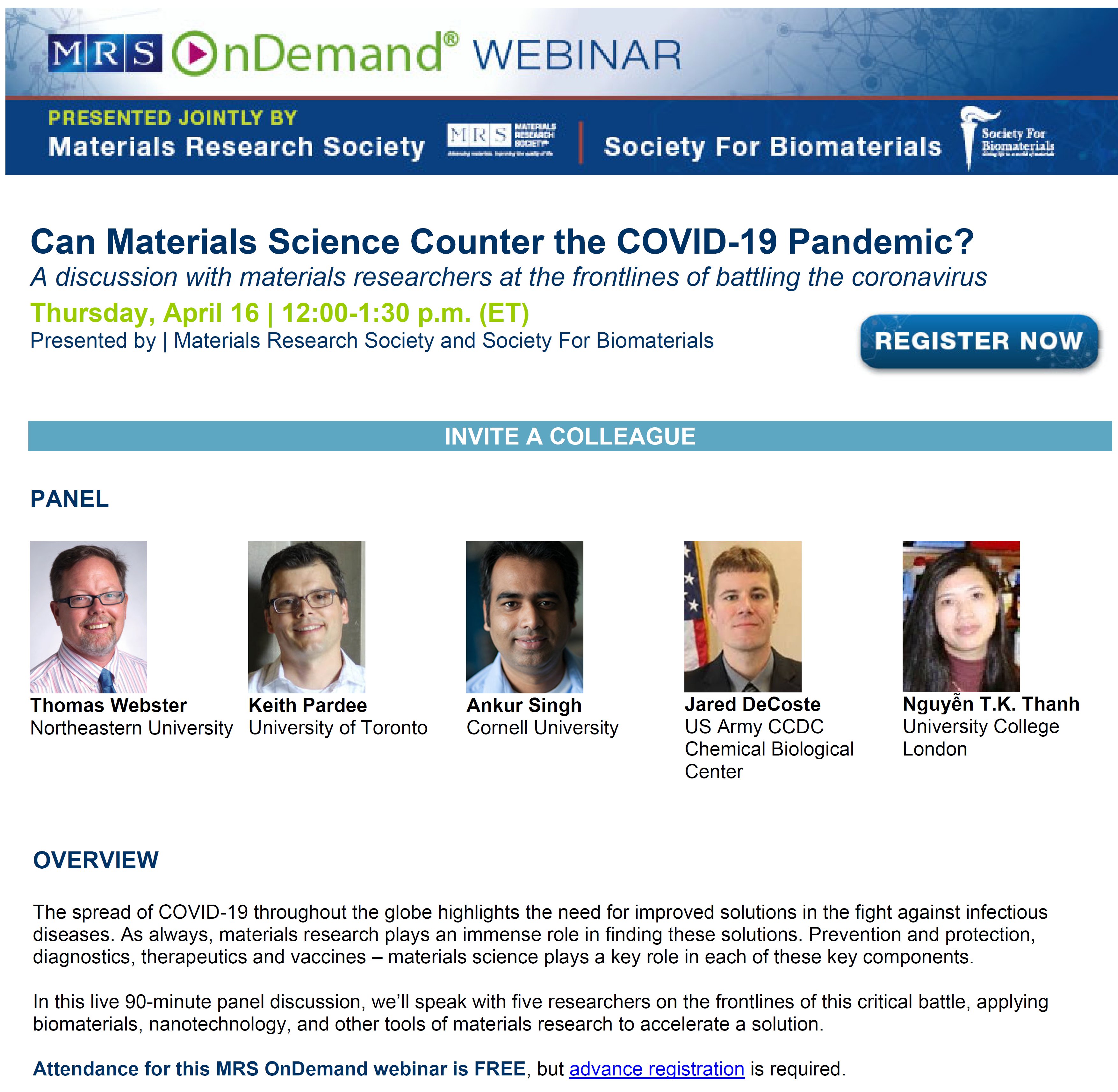 April 8, 2020 Congrats
to PhD student Sungwoong Kim who's voted by Controlled Release Society CRS_FG_Immuno
members to win 2020 Trainee Video Competition Award for his T cell engineering work using nano-wires. Video link below
.
https://www.youtube.com/watch?v=5xCMdK8Dfco&feature=youtu.be
Mar 20, 2020 Proud of our very talented undergrad, Nicole Félix Vélez, whose research was selected by
Cornell 
CornellCALS
for Dextra Undergraduate Research Endowment Fund Award.
Feb 15, 2020 Congrats to lab undergrad & LSAMP Scholar, Nicole Félix-Vélez, whose research work got selected for presentation at the 19th Annual New England Science Symposium to be held on April 5 @ Harvard Med School @NESS_News @harvardmed @nicoleefv, you make us proud! #DiversityandInclusion
Jan 15, 2020 Singh's writes an opinion in "Nature Materials" on the emerging role of #microbiome, #immunity, and #nanomaterials in #inflammatory bowel disease and metabolic syndrome.
Nov, 15, 2019 Prof. Singh gave an invited talk to @NASA   and @ncats_nih_gov  on  #immune  #organoids  & #technologies. Learned so much about @Space_Station @ISS_Research  & in-space viable medical countermeasures while preparing this talk! 
Oct, 15, 2019 Congrats to PhD student Shivem Shah (@shivemshah) on receiving an @NIH @NIBIBgov  T32 #Immunoengineering Training Fellowship for 2019-20. Shiv is studying #immune cell signaling using engineered immune tissues & plans to defend his PhD in '20. So proud of him!
Oct, 15, 2019 Congrats to PhD student Matt Mosquera on winning a '19 BMES Career Development Award! @BMESociety's Award supports dev. of underrepresented early career Grads/postdocs/junior faculty in #biomedical #engineering research. So proud!
April, 2019 Singh lab publishes in Nature Reviews Materials! "Multiscale engineering of immune cells and lymphoid organs". Congrats to Sungwoong, Shiv, and Pam for publishing in Nature Reviews Materials! Multiscale engineering of immune cells and lymphoid organs
April 3, 2019 Congrats to NSF GRFP fellow Tibra Wheeler of Singh & van der Meulen lab on winning @SFBiomaterials #Immunoengineering SIG Poster Award ? for study on "Mechanical Pillows" attenuate load-induced #Osteoarthritis
April 26, 2019 Congrats to Singh Lab undergrads Nicole Felix-Velez and Isaac Macrae on winning Undergrad Research Awards from @CornellEng! The award funding will support their individual research on innate #immunity and cell #engineering.
March 29, 2019 Congrats to Ph.D. student Shiv Shah on winning the Cornell Research Award @ the American Cancer Society gala
March 15, 2019 Congrats to Singh lab undergrad Elisabeth Abeles who got into Johns Hopkins School of Medicine!!
March 15, 2019 Congrats to Singh lab undergrad Tina Jing (BME' 18) on her acceptance to the Albert Einstein College of Medicine!!
27 Mar 2019
Congrats to Matt Mosquera on his new Science Advances paper!
Immunomodulatory nanogels overcome restricted immunity in a murine model of gut microbiome–mediated metabolic syndrome
March 2019, Prof. Singh wins the 2018 Cornell Engineering Research Excellence Award!
Dec, 2018 Prof. Singh elected as the inaugural Chair of the new Immuno Delivery Focus Group at the Controlled Release Society
Nov, 2018: Congratulations to Singh lab's Matthew Mosquera and August/Singh lab co-advised Jessica Elmore on being selected for support from the NIH/NIBIB funded new ImmunoEngineering T32 training grant! Good luck w/ your exciting research on immunology, engineering, mouse models, and microbiome!
8/2018 Prof. Singh to serve as the Associate Director on the new NIH T32 Training grant on "Immuno-engineering" at Cornell with Prof. Avery August and David Putnam as Program Directors.  This five-year, $890,560 NIH grant will train graduate students interested in specializing in "immuno-engineering," an emerging hybrid field that combines engineering and immunology
Cornell Chronicle: Training 'immuno-engineers' is goal of NIH grant
7/2018 Congrats to recent Ph.D. Dr. Alberto Purwada and current Ph.D. student Shiv Shah on their new publication in Biomaterials.
"Ex vivo synthetic immune tissues with T cell signals for differentiating antigen-specific, high-affinity germinal center B cells"
https://doi.org/10.1016/j.biomaterials.2018.06.034
6/2018 We thank NIH/NCI for supporting us with a diversity supplement award.
4/2018 Apoorva's research paper with Lymphatic-on-chip like characteristics published in Cell Reports -"How Biophysical Forces Regulate Human B Cell Lymphomas". Congrats to all members of the team!!
Immune-engineered device targets chemo-resistant lymphoma
4/2018 Congrats to Singh lab Ph.D. students Regan Stephenson and Tibra Wheeler on receiving National Science Foundation (NSF) Graduate Research Fellowships!  Very proud moment for the lab!
3/2018 Ankur Singh, Assistant Professor of Mechanical Engineering and Biomedical Engineering at Cornell University, is a recipient of the 2018 3M Non-Tenured Faculty Award!
2/2018 Prof. Singh awarded a new $2M NIH-R01 grant from NIH/NIAID!! Huge congrats to Singh lab! Prof. Singh awarded a new $2M NIH-R01 grant from NIAID to develop biomaterials-based immune organoids and study epigenetics of the immune system. The grant will support research from 2018-2023.
1/2018 Prof. Singh selected to serve as an Associate Scientific Advisor for Science Translational Medicine for 2018-2019. In addition to serving as an advisor for the journal, he will be writing Editor's Choice pieces for them every several weeks!
01/2018 Prof. Singh selected to become a standing member of the Englander Institute for Precision Medicine at Cornell Medicine #Immune #Immunotherapy #organoids
12/2017 Singh lab research highlighted at Cornell Research
Living Tissue Systems for Fighting Disease
11/07/2017 Singh wins Cornell Engineering's Teaching Excellence Award! Prof. Singh was recently awarded the John Swanson '61 ME in honor of his mother, Dorothy G. Swanson Teaching Excellence Award from Cornell.
10/12/2017 Huge congrats to the team! Prof. Singh's co-senior author paper with prof. Ari Melnick at WCMC in Nature Communications models complex immunobiology of genetically engineered double knockout mouse models in organoids and explains how epigenetics of B cells regulates rapid proliferation of germinal center B cells via silencing of a checkpoint gene. Solves a mystery about why and how B cells respond quickly to infectious threats and identifies functioning of an epigenetic switche that may be responsible for lymphomas.
Cornell Story: Why immune cells fire up so rapidly?
Paper (Free access): EZH2 enables germinal centre formation through epigenetic silencing of CDKN1A and an Rb-E2F1 feedback loop
8/8/2017 Prof. Ankur Singh invited to attend the National Academy of Engineering (NAE) 2017 EU-US Frontiers of Engineering Symposium (EU-US FOE). This activity is organized by NAE and the European Council of Applied Sciences, Technologies, and Engineering (Euro-CASE). The objectives for this bilateral meeting are similar to those for the US Frontiers of Engineering with the added element of facilitating international cooperation and understanding. These include collaborative work, the transfer of new techniques and approaches across fields, and the establishment of contacts among the next generation of leaders in engineering.
Singh Invited to the NAE 2017 EU-US Frontiers of Engineering Symposium
7/7/2017 Alberto Purwada successfully defends his Ph.D. and starts his new job in New York City! Congrats and best wishes!
6/30/2017 Medgadget interviewed Prof. Singh on his Immune Organoid technology!
Engineering Immune Organoids : An Interview with Prof. Ankur Singh from Cornell University
5/30/2017 Prof Singh has won a three-year, $555,000 grant from the U.S. Department of Defense (DoD) through its Peer Reviewed Cancer Research Program (PRCRP), to further his study of diffuse large B-cell lymphoma.
http://news.cornell.edu/stories/2017/05/singh-wins-grant-defense-department-cancer-research
5/20/2017 Prof Singh selected as the recipient of the Weill Cornell Medicine' NCI Prostate Cancer SPORE Initiative Award!! This technology-driven translational project focuses on human prostate cancer.
4/07/2017 Prof Singh receives the prestigious Society for Biomaterials Young Investigator Award! Gives a plenary lecture at the 2017 SFB Annual Meeting in Minneapolis!
Singh honored as top young investigator by biomaterials society
12/13/2016 Congrats PhD students Alberto & Shiv! – Their manuscript on "Modular Immune Organoids with Integrin Ligand Specificity Differentially Regulate Ex vivo B Cell Activation" was accepted for publication by ACS Biomater. Sci. Eng.
October'16 Singh lab expands to 9 PhD students! Lab welcomes 4 new PhD students this year!! Kristine Lai (CornellMAE),  Regan Stephenson (CornellBME), Sungwoong Kim (CornellMSE), and Tibra Wheeler (CornellBME)
October'16 Congrats to PhD student Shiv Shah who wine the SASE Rising start award!
October'16 Katrina Lastra and Tina Jing receive the Engineering Learning Initiative Research grants
October'16 Liz Abeles named a Hunter R. Rawlings III Cornell Presidential Research Scholar this year.
06/15/2016 Lab welcomes new PhD student Jessica Elmore! Jessica, a recipient of prestigious Cornell Sloan Fellowship, is co-advised by leading immunologist & our collaborator Prof. Avery August (Chair of Immunology). She will be working in infection and immunity area. Cheers!
06/15/2016 Congrats Singh lab's Shiv Shah who has been selected for a 2016 Graduate Assistantships in Areas of National Need (GAANN) fellowship. The fellowship is awarded as a training grant to Cornell's Meining Schoool of Biomedical Engineering from the US Department of Education. Cheers!
05/18/2016 Prof. Singh received the 2015 Biomaterials Outstanding Paper award from Prof. Kam Leong (Editor-in-Chief of the Biomaterials Journal) at the 10th World Biomaterials Congress in Montreal this past week! The award is in recognition for the development of a B cell follicle organoid which recapitulates the anatomical microenvironment of a lymphoid tissue and thus facilitates the mechanistic understanding of the immune system and has the potential to serve as a model for immunotherapeutic studies.
03/29/2016 Congrats Shiv Shah and Kathleen Rohrbach
on his Honorable Mention recognition for the NSFGRFP fellowship!
03/21/2016 Congratulations to Singh lab. Their seed grant proposals have been selected for funding by the Cornell Stem Cell Program. Thank you CSCP!
03/21/2016 BME PhD student Shiv Shah joins Singh lab! Shiv is a recipient of prestigious Presidential Life Sciences Fellowship.
03/08/2016 Congratulations to Alberto Purwada, Ye Tian, and our collaborator Avery August on the acceptance of our manuscript to Advanced Healthcare Materials!
#SaferImmunotherapy01/02/2016 Prof. Singh receives a National Science Foundation (NSF) CAREER award to build dynamic living hydrogels! Cheers! See featured article @ Cornell Research
01/01/2016 Lab's research on immune organs makes top 100 stories of 2015's "The Year in Science" issue of Discover Magazine! Check out #63.
01/01/2016 Matt Mosquera joins Singh Lab as a new Mechanical Engineering PhD student!
11/30/2015 Prof Singh is the Co-I on a new translational research program grant awarded by the Leukemia and Lymphoma Society. Project is on "Targeting signaling-mediated transcription in T-cell lymphoma." Project PI is our long standing collaborator, Dr. Leandro Cerchietti at Weill Cornell Medical College. Congrats to the lymphoma team!
11/20/2015 Apoorva and Alberto pass their A-exams! Great start to the holiday season!
09/11/2015 Singh lab welcomes new members
Kathleen Rohrbach (PhD student, MSE, Dean's Excellence Fellow); Akanksha Kapoor (M.Eng, BME); Evelyn Haynes(Undergraduate Researcher, MAE, working in collaboration with Cephea Valve Technologies)
07/31/2015 Singh lab moved into the new Kimball Hall facility!

06/25/2015 Profs. Singh and Kirby in Mechanical Engineering awarded the prestigious National Science Foundation (NSF) grant to study "Stem Cell Differentiation and Teratoma-forming Potential in hiPSC-derived Neural Cultures". Thank you NSF for supporting our research!
06/10/2015  Singh Lab's "immune organoids" covered in Cornell Chronicle, Science Daily, and widely across many other media outlets
"Engineers' synthetic immune organ produces antibodies" – Cornell Chronicle 
"First functional, synthetic immune organ with controllable antibodies" – Science Daily
"Immune Organ Ex Machina a Germinal Prodigy" – GEN
"'ORGANOID' MAKES ANTIBODIES WITHOUT A BODY" – Futurity 
06/01/2015Ph.D. student Alberto Purwada engineers biomaterials-based immune organ! Research published in "Biomaterials" – "Ex Vivo Engineered Immune Organoids for Accelerated Germinal Center Reactions". Congrats!!
06/2015 μSHEAR™- Stem cell technology developed by Prof. Singh at Georgia Tech is licensed. Read more. 
03/2015 Prof. Singh re-elected as the Chair of Immune-engineeringSIG (2015-2017) at the Society for Biomaterials.
01/2015 Postdoc Field Tian creates living tumors: Study published in "Blood" – Integrin αVβ3 acting as membrane receptor for thyroid hormones mediates angiogenesis in malignant T cells.
12/ 2014 Prof. Singh's collaborative work on "Stimuli responsive, light-triggered Materials" published in Nature Materials.
Highlight in Science: Researchers make blood vessels grow by shining a light on skin
11/2014 Undergraduate researcher Rebecca Schnieder and our story on "Breaking The Rules to Engineer Human Immune System" featured on Cornell Engineering webpage!
10/2014 Our arthritis inflammation research is the "Frontispiece" cover of Advanced Healthcare Materials.  Article
09/2014 Singh lab undergraduate researcher Rebecca Schneiderawarded the Fall 2014 Engineering Learning Initiatives research award. Congrats!
09/2014 Singh invited by the National Cancer Institute of the NIH to present current lymphoma research at the NCI Division of Cancer Biology Strategic Workshop "Prospective Outlook of Mechanics in Oncology", Rockville, MD (Sep 11-12. 2014)
08/2014 Singh publishes in Advanced Materials with the National Academy of Engineering member and biomaterials pioneer Prof. Nicholas Peppas!
08/2014  Cornell Profs. Singh and Lammerding featured on the cover of the Cellular and Molecular Bioengineering (CMBE) Journal as one of the inaugural class of CMBE Young Innovators (2014). Congrats to all YIs!
08/2014 Prof. Singh to give 3 invited talks at the 36th Annual International Conference of the IEEE Engineering in Medicine and Biology Society (EMBC'14) to be held from August 26-30, 2014 in Chicago! Link
08/2014 Congratulations Alberto for receiving the prestigious Howard Hughes Medical Institute (HHMI) Med into Grad Scholars Fellowship! We will be studying Multiple Myeloma with our clinical collaborator Dr. Giorgio Inghirami (Weill Cornell Medical College).
07/2014 Spotlights:  Cornell Engineering's Ankur Singh is among 13 outstanding U.S. scientists recently recognized as 2014 Young Innovators in Cellular and Molecular Bioengineering. Singh's peer-reviewed research on "Microscale bioadhesive hydrogel arrays for cell engineering applications" will be published in the journal's Young Innovators issue and the assistant professor of mechanical and aerospace engineering has been invited to present the work at the 2014 Fall Biomedical Engineering Society Conference in San Antonio, Oct 22–25.   Read more at Cornell MAE Spotlights or Cornell Engineering News
07/2014 Alberto completes his Summer Immersion training at Weill Cornell Medical College working with Dr. Sandip Kapur in transplantation surgery! See pics here.
07/2014 Prof. Singh to give an invited talk on stem cell biomechanics at the 7th World Congress of Biomechanics – Boston, July 10 '14.
06/2014 Prof. Singh's work selected in Nature's special collection in stem cell reprogramming!! Link
05/2014 Singh Lab awarded a $50,000 "2014 Seed Grant for Collaborations Between Cornell University-Ithaca and Weill Cornell Medical College Faculty"- collaboration involving Dr. Ari Melnick from the Weill Cornell Medical College to study blood cancer.
05/2014 Prof. Singh receives his first R21 grant from National Institutes of Health (NIH) and National Cancer Institute (NCI)to engineer biomaterials for B and T cell Lymphomas.
05/2014 Dr. Ye (Field) Tian joins lab as first postdoctoral fellow. Welcome Field!
04/2014 Prof. Singh to present two talks at the 2014 Annual Society for Biomaterials Meeting in Denver, CO.
03/2014 Ravi Patel publishes his first article in IEEE Pulse– Miniature Medicine: Nanomaterials for therapeutic delivery and cell engineering applications. Congratulations Ravi!
03/2014 Prof Singh's new paper on treating Osteoarthritis accepted for publication in Advanced Healthcare Materials. More details to follow.
02/2014 Prof. Singh elected as the inaugural Chair of the newly founded Immune Engineering Special Interest Group at the Society for Biomaterials (SFB). SIG will have its first face-to-face meeting on Thursday, April 17 from 7:00 – 8:00 am at 2014 Annual Meeting & Exposition | April 16-19, 2014 Denver, CO.
02/2014 Dr. Singh presents research work in two-platform session at the 2014 ASME 3rd Global Congress on Nanoengineering in Biology and Medicine (San Francisco, CA)
01/2014 Alberto Purwada publishes new article in Acta Biomaterialia – "Engineering Vaccines and Niches for Immune Modulation". Congrats AP!
01/2014 New paper on "High Fidelity Nanopatterning of Proteins onto Well-Defined Surfaces Through Subtractive Contact Printing" published in Methods in Cell Biology.
01/2014 Prof. Singh selected as a recipient of the Rising Star Award for the 2014 Biomedical Engineering Society Cellular and Molecular Engineering Meeting to be held in La Jolla, CA. The theme for this scientific meeting is Multi Scale Mechanobiology – From Morphogenesis to Nuclear Mechanotransduction.
12/2013 Dr. Singh research on injectable scaffold for Lymphoma highlighted in Nature Outlook's "Cancer Vaccines: Materials Breach".
11/2013 Congrats Daniel Leach for being awarded the HEAA research grant!
10/2013 Ravi Patel (ME, PhD.) joins the lab! Welcome!
10/2013 Alberto Purwada (BME, Ph.D.), Peter Gu (MAE, M.Eng) join the lab! Welcome!
10/2013  New paper on "Microfluidic-based patterning of embryonic stem cells for in vitro development studies." published in Lab on a Chip (2013)
08/2013 Singh's collaborative work on "Single-Cell Analysis of Embryoid Body Heterogeneity Using Microfluidic Trapping Array" accepted for publication in Biomedical Microdevices. (2013)